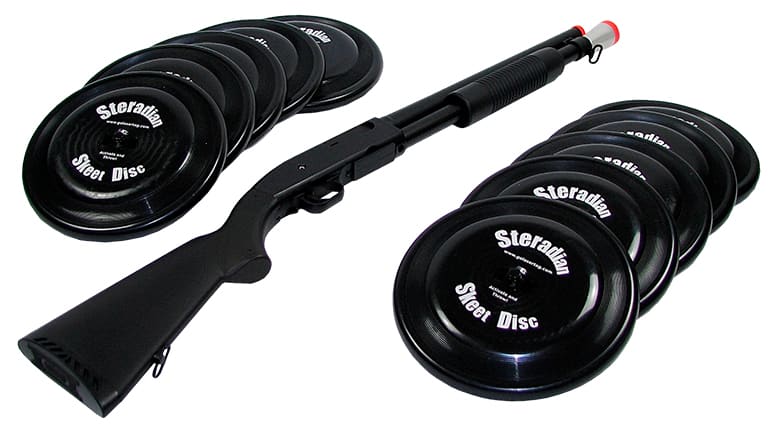 Steradian Disc Skeet
Fun laser skeet, safe for indoor and outdoor use.
Price: $1,495.00
The fun of skeet and trap shooting without the cost and danger. Includes 1 Disc Skeet Shotgun and 10 Disc Skeet Frisbees. Simply arm the disc skeet and throw!
Steradian Disc Skeet
Have you ever wanted to try skeet shooting? Hate paying per shot for real ammo and clay pigeons? Hesitant about safety with live ammo and having an area to shoot? We have an answer for you with laser skeet shooting!
Power on the shotgun by pulling the power key out. Use the pump-action lever to reload after each shot just like on a true shotgun. This gun isn't heavy but feels solid in your hands. Call out "Pull!" and the person throwing lets one fly. Aim down the barrel and shoot! If you miss, reload and try again before the disc hits the ground.
Simply press and hold the "on" button to activate each skeet disc. Then throw the skeet disc and try to hit it! Each disc has red LED's on the top and bottom to let you know you hit the skeet disc. It is that easy. This is fun for everyone! Whether you are the shooter or person throwing the disc you can't help but enjoy playing. If you are the one throwing the disc you can make each shot harder by the throwing the disc faster or banking it harder. For easy shots, keep the disc flying straight and keep it nice and slow. If there are more than two people who want to play, have the shooter try to hit multiple skeet discs that come from more than one person. Start off easy and when you've gotten the hang of it, make it as hard as you wish for each shooter.
Gun features
• 37 inches long
• 3.75 lbs
• Range: 300 feet
• Completely eye-safe!
• Sophisticated microcontroller-based design
• Internal industrial grade lens
• Iron sights for easy aiming
• Sling hooks
Disc features
• 9 1/4" Diameter
• 0.3 lbs
• Power saving on switch-turns off after 30 seconds
• Hi-intensity LED's on the discs that illuminate when shot
• Sophisticated microcontroller-based design
• 10 Steradian Skeet Discs included