Eclipse 400 Laser Tag Gun
Lightweight laser tag gun for all ages.
Pick from these options:
Compatible with: Classic Series Laser Tag System
Price: $399.00
Family friendly laser tag gun with classic IR based game management. Offers traditional game types and basic scoring. Lightweight and durable construction.
Compatible with the Classic Series.
Fantastic family fun
The Eclipse laser tag gun was carefully designed as the perfect solution for family fun. Sharing many of the same features as the S-7, the Eclipse laser tag gun is a full-featured gun in a small, lightweight package.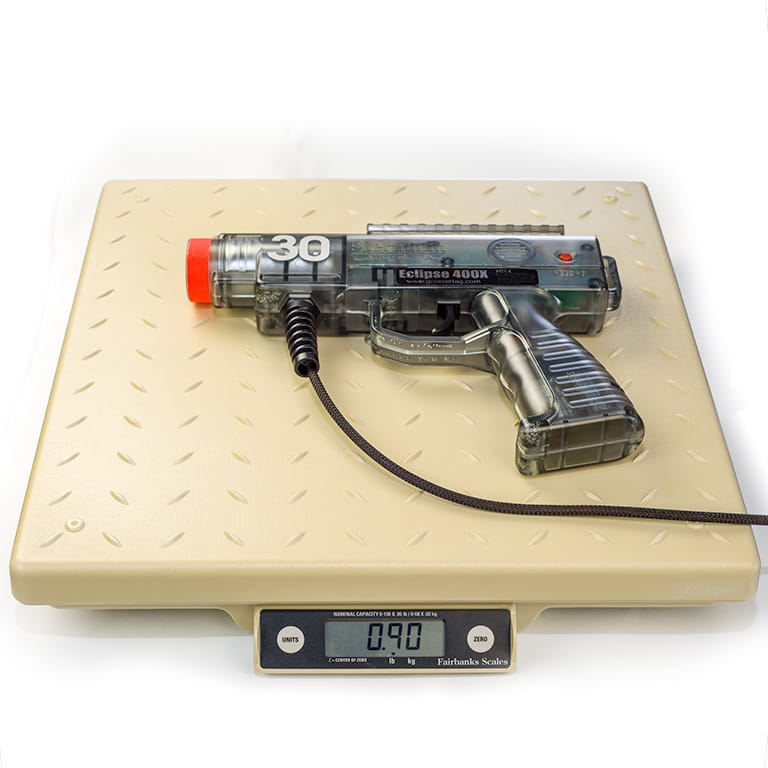 Light weight
Weighing in at less than a pound, the Eclipse laser tag gun feels solid and comfortable to carry. The light weight means your players can keep playing for longer, which means more business for you.
Sunband sensor
A quality sensor is critical to an excellent game play experience. Vests are bulky and hard to hit. Sensors only located inside the gun are pointless, simply hide the gun behind your back and nobody can hit you! So we invented the Sunband sensor. Other companies have to tried to copy our Sunband sensor, and no one has succeeded. The Sunband sensor can detect a laser tag shot from incredible distances in the brightest of sunlight, yet it remains lightweight and fits easily onto any size head. Shown here with the included Sunband cover, it is easily cleaned and attracts players who aren't comfortable wearing bulky vests which were just worn by a sweaty player. Different color Sunband covers are available for easy team identification.
Long range
In the most demanding full sunlight conditions, you can hit your opponent from over 650' (200m) away. That's over two American football fields away! And with distances like that, you can be sure you can hit your opponent in your backyard game.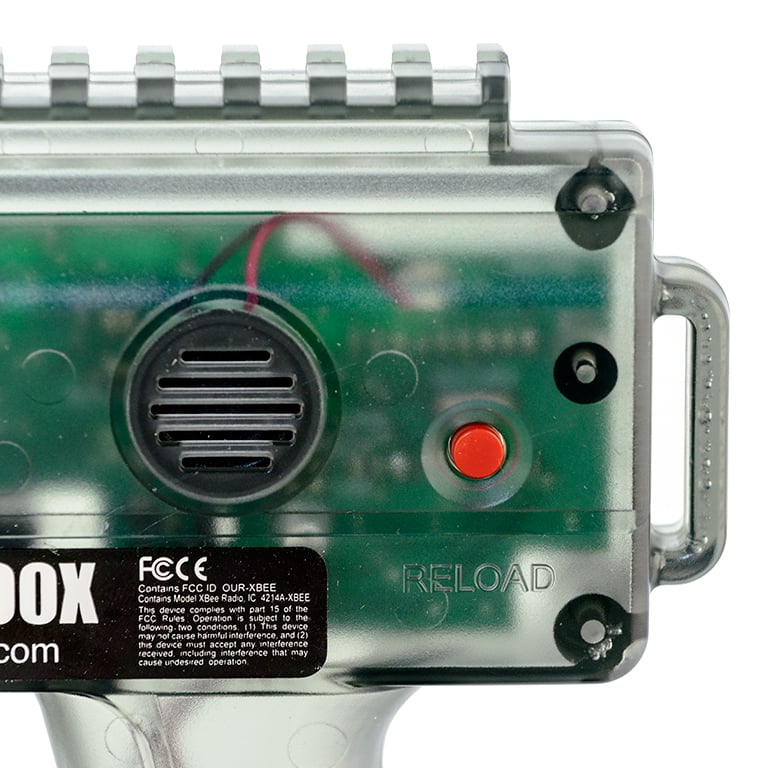 Advanced electronics
We designed the electronics inside our laser tag guns to be so good, we are proud to let them show through the translucent body. Each board is hand built in-house using state of the art circuitry, and is tested by experts, assuring the highest quality and reliability.
Sturdy construction
The Eclipse body is made from polycarbonate, which is the same plastic used in bulletproof glass. A 250-ton injection molding machine injects polycarbonate into our own custom mold, creating a tough, high quality laser tag gun body.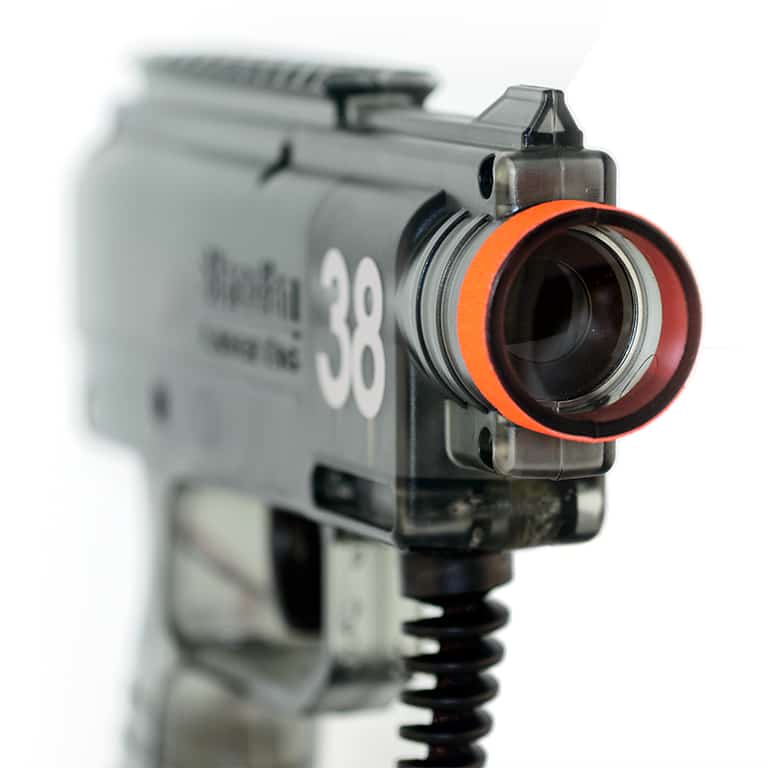 Durable lens
Our lenses are manufactured by a leader in the optics industry to our exacting specifications. Using the highest quality BK7 material, our lenses survive the toughest conditions, yet focus your laser tag shot to fantastic distances.
Powerful battery
A powerful Li-Ion battery keeps the Eclipse laser tag gun running for 12 hours, so you can keep your guns in the game, not on the sidelines charging. And our SmartCharger charges the battery just the right amount each time, and shuts off when the battery is full.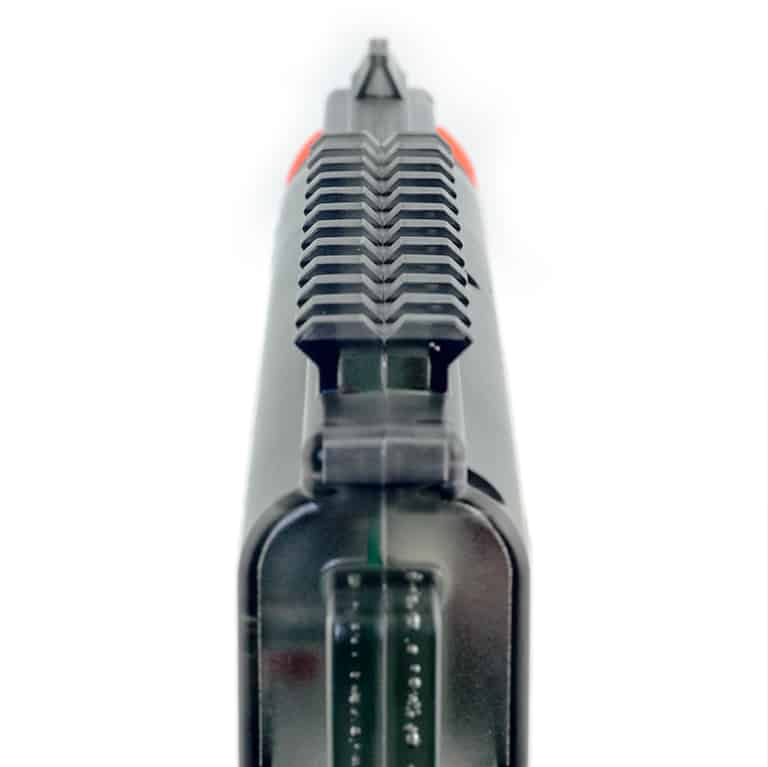 Sight rail
Aiming the Eclipse laser tag gun is easy. You can use the built-in iron sights for simple aiming at closer targets, or you can add an optional Red Dot sight to make aiming foolproof at distances near and far.
Laser tag system
Whether you buy the Eclipse 400X or Eclipse 400 laser tag gun, it is part of a complete solution for your laser tag business. Visit our X-Series page to learn about the features which make up our X-Series laser tag system, or visit our Classic Series page to learn more about the features which are common to the Classic Series laser tag system. Our side-by-side comparison chart highlights key differences between the systems.
Eclipse accessories
The Eclipse Laser Tag gun can be enhanced with several accessories that attach to one of the mount points on the gun.