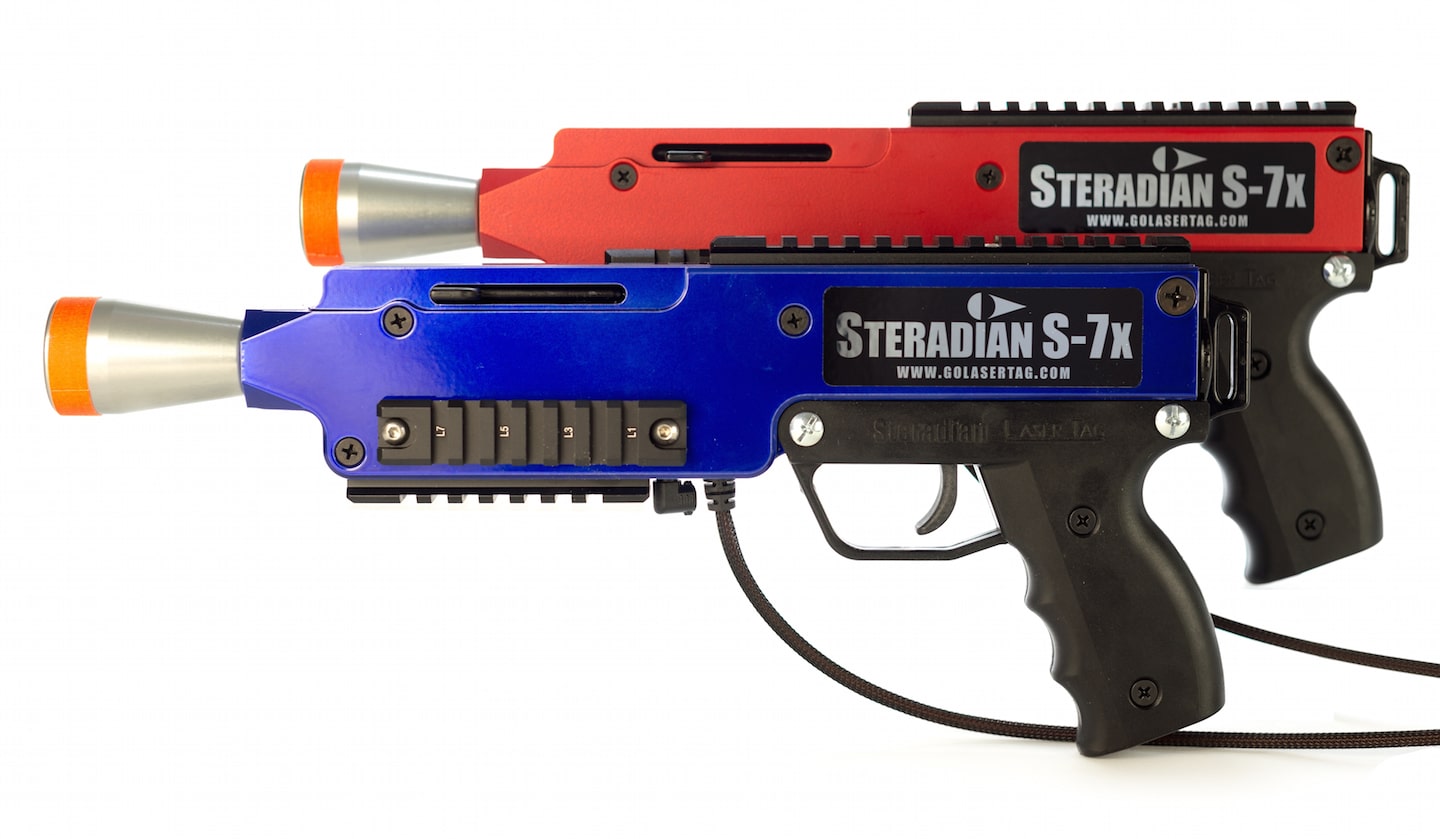 About our laser tag guns
The laser tag gun is the most central part of your laser tag system. The basic operation of laser tag guns is to shoot invisible infrared beams of light to "tag" other players. Other features compliment that basic function. Embedded computers in each gun make for advanced game types, and RF data radios let scores be transmitted wirelessly to a computer. An optional internet connection allows those scores to be seen anywhere in the world.
Look and feel
Steradian takes a unique approach to our designs. We develop our laser tag equipment from original designs, made just for laser tag. They are made to impress, yet not be mistaken for a real gun. Extensive reaction testing goes into each gun design, making sure the profile and colors impress people, not scare them.
Laser tag for any industry
Our guns work fantastically in any business or home setting. From fully-loaded S-7X's on a tactical battlefield to Eclipse 400X's in a backyard birthday party, we have you covered.
Common features
All our guns share powerful features, refined over more than a decade of experience in the laser tag industry.
Durable construction for long service life
Lightweight design for more play time
Sunband sensors for extended range outdoors or indoors
Multi-layered sound system for complex sound effects
Dedicated Game Controller for game setup and control (Classic Series)
Industry leading control software runs on a normal computer (X-Series)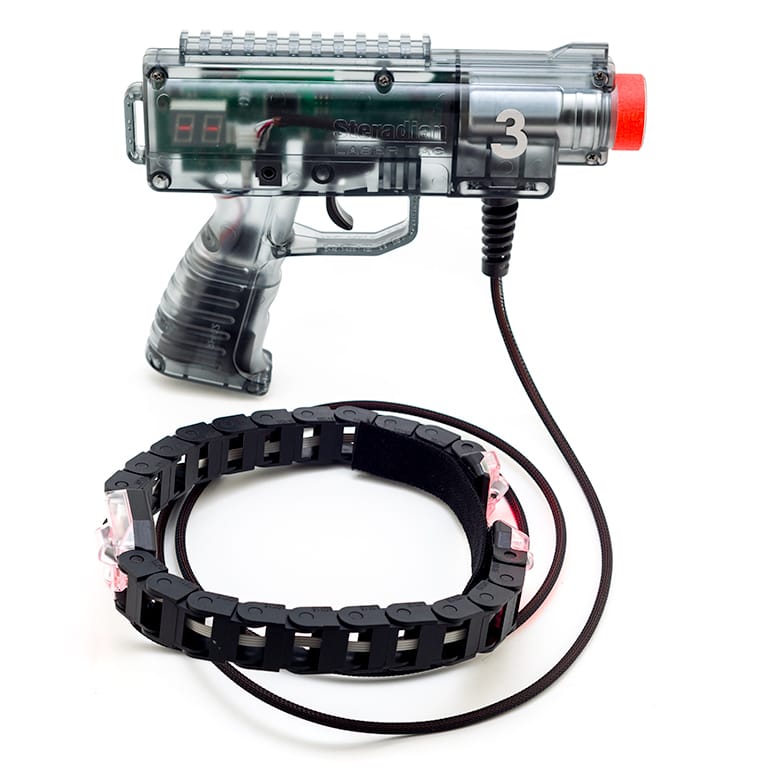 Eclipse 400 laser tag gun
The Eclipse 400 laser tag gun is designed for all ages. It's lightweight and easy to carry, great for kids from 3 to 93 years old. Offering outstanding ease of use and a non-threatening look, the Eclipse 400 laser tag gun is a must for your laser tag business. Available separately or part of a laser tag package.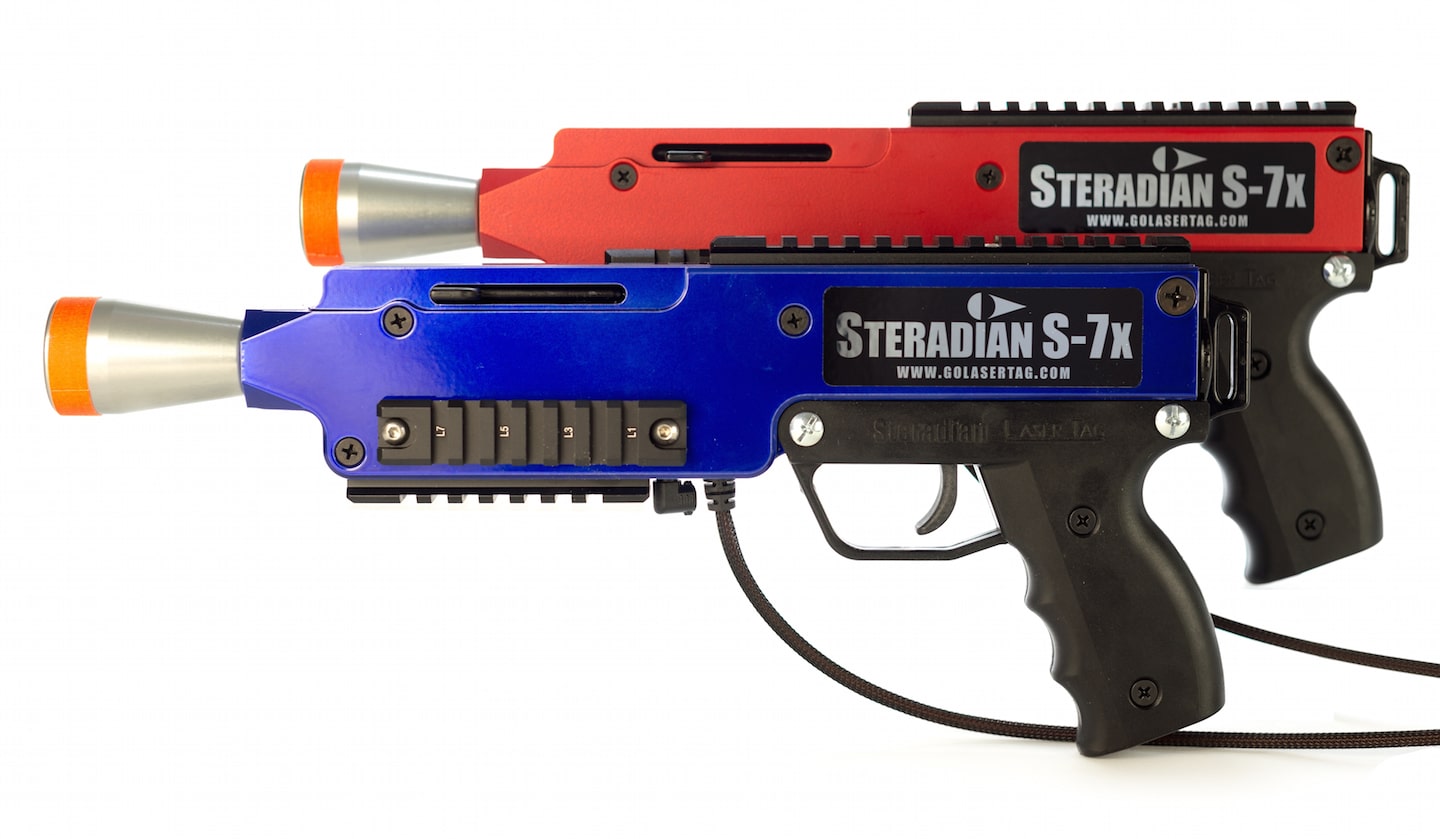 S-7 laser tag gun
The S-7 laser tag gun is designed to look impressive, but not scary. Front accessory rails allow for upgrades like front hand grips and flashlights. A sliding reload lever has a satisfying feel, plus the rear stock mount and a full-size scope rail means this laser tag gun is no pushover! A vibrating motor gives tactile feedback every time you fire for the ultimate feel.
No other laser tag company offers this much flexibility and power and looks this good. Available separately or as part of a laser tag package.